I have no complete school supplies at home, as much as I wanted to buy, I can't add it up yet in our tight budget. Need to do something about it if possible without spending some money for it. I told my kids I will be making some glue so we could use it when we do some activity next time.  And so mommy made some glue:
It's just simple, all you need are:
1 table spoon flour
1 teaspoon cornstarch
1 teaspoon sugar
1/2 cup of water
1/2 teaspoon vinegar
Just do the following steps to make a safe, non toxic glue for your kids:
1. in a bowl, mix the flour, sugar and cornstarch
2. in a saucepan boil the water
3. slowly mix the water to the combined flour, sugar and cornstarch while stirring it
4. put the vinegar into the mixture then place it again in a medium heat
5. keep stirring until it thickens
6. cool the glue and put in a container (I used an empty butter container)
Making your own glue is another way of saving mother earth, no toxic at all. Even small kids can use it coz even if they accidentally put it in their mouth, it's totally safe coz it was made edible. I putted some sugar in it because sugar can create a nice smell of the glue while vinegar serves as a preservative so it would last long. You can refrigerate it if you want.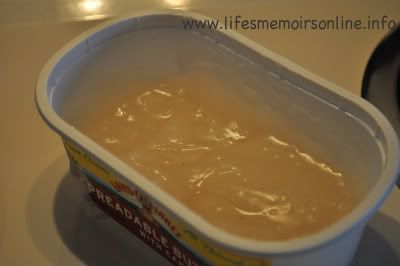 I showed it to my kids and told them, " we have our glue now!", Ishi replied "wow! next time mommy gawa ka naman ng pencil"(next time please make me some pencil), LOL. It's funny that Ishi thought I can do anything instead of buying it. I wish I know how to make a pencil but I don't so I told her that I can't make it coz we need some machines to make it.
I guess I really have no choice but to buy PENCILS then.